Why Choose Marietta Luxury Motors for Your Next Used Car Purchase?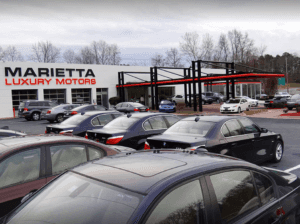 Shopping for a new car is not easy as there are so many variables and decisions associated with it. Since there are so many car dealerships in Atlanta, you need to make sure that you choose the right one for your next car purchase.
Marietta Luxury Motors is a great choice due the ratings and huge inventory that it has. In addition to its no haggle or hassle policy, it should be a top choice when looking to get a new car.
We are going to show you the reasons that you should trust this car dealership for your next purchase below:
Local Used Car Dealership
The best way to find a good car is to locate a dealership that is near to where you live. That way you can come and go as you please and don't have to devote a lot of time trying to get to the dealership.  Car shopping takes time but when you find the car you are looking for, there is nothing better then only having to drive a short distance to go and view it.
Quality of Inventory
MLM is part of one of the largest independent used car dealerships around, and we have tons of all makes and models of used cars that may contain the one that you are searching for. Our team always goes the extra mile to ensure that we carry the best quality cars in our lot that have low mileage and have only been owned by one previous person. Whether it be Ford's, Mazda's, Nissan's, Mercedes Benz, BMW, Chevrolet's or any other make of car, you can be assured that we carry it.
Warranty
Being a top-rated used car dealership, we offer warranties on all our vehicles that will ensure that you get a good deal and an efficient vehicle. Come on in and talk to our finance team about any warranty questions that you may have.
Accolades
We were awarded the 2020 dealer of the year as well as the 2020 consumer satisfaction reward by Dealer Rater. This means that we are one of the top car dealers in the State of Georgia.
Reviews
Marietta Luxury Motors is proud of the great review scores that we have been able to achieve over the years. Here are some of the scores we have attained from various review sites:
Dealer Rater – 4.8 out of 5 Stars
Google – 4.2 out of 5 Stars
Auto Trader – 4.5 out of 5 Stars
With these scores in mind, you can be assured that you will be buying a quality, reliable vehicle from us.