Toyota Rav 4 vs Toyota 4Runner Head To Head
Are you the kind of person who loves to explore? One who finds joy in stepping inside that car, hearing that engine sound, and using that very automobile to take you to your next adventure? Then you might have probably asked yourself which crossover or SUV is most suitable for your lifestyle. And in this line of discussion, sometimes you can always encounter a car enthusiast or two arguing which is a better option — Toyota Rav 4 or Toyota 4Runner?
If you're one of those, this quick read is for you.
The Key Differences Between the Toyota Rav4 vs Toyota 4Runner:
Capability: Drivers love these two models for their ability to help people enjoy long trips. But while the Rav 4 is more economical, it is relatively lacking towing capacity. The 4Runner, on the other hand, starts at higher prices but it has a stronger capability to go through difficult terrains.
Cargo Space: The Rav 4 has a maximum cargo space of 37.6 cubic feet while the 4Runner has 89.7 cubic feet.
Fuel Economy. The Toyota Rav 4 is known to be more fuel-efficient at an EPA estimated at 35 mpg highway and 26 mpg city. Meanwhile, the Toyota 4Runner runs at 21 mpg highway and 17 mpg city.
Towing Capacity: Standing at the brawnier side, 4Runner has a maximum towing capacity of 5000 pounds; Rav 4's is only at 1,500 pounds.
Transmissions: The Toyota Rav 4's advantage lies in its 8-speed transmission feature, which can give you smoother rides and transitions as compared with the Toyota 4Runner (which only features a 5-speed transmission).
Off-road Features: If you frequent difficult terrains, 4Runner — as mentioned above — is a better option, thanks to its Hill Start and Downhill Assist Controls and Active Traction Control. Its ground clearance comes in at 9.6 inches, compared with Rav 4's 8.6 inches.
We have covered a few differences between these great vehicles and if you are in the market to buy a used one, why not visit a top rated used car dealership like Marietta Luxury Motors, where we can show you in person some of these features discussed above?
Toyota Rav4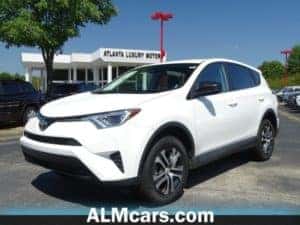 Toyota 4Runner